Gloss Salon and Studio is a high-end salon with a team of talented and professionally trained hair stylists, located in the heart of Los Alamitos, California. The salon was introduced by Emi Wheaton in 2012 with a vision to provide top-quality customer service and the latest hair trends to the local community.
Emi Wheaton, the founder of Gloss Salon and Studio, is a skilled stylist and entrepreneur who is passionate about creating endless transformations with safe and gentle methods. In 2013, she designed and developed her very own unique hair extension system called Locket Hair Extensions, which has become a flagship product of Gloss Salon and Studio. Emi personally trains each stylist at the salon to provide expert services with this innovative hair extension method.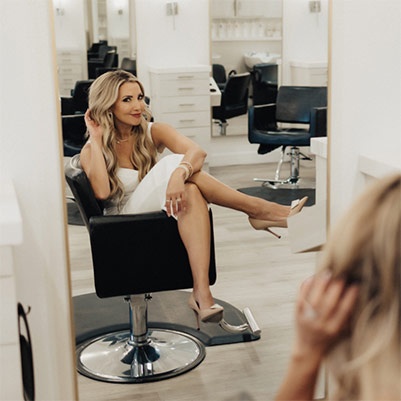 At Gloss Salon and Studio, the stylists are constantly keeping up with hair education and the latest trends. The salon provides a wide range of hair services, including haircuts, coloring, highlights, balayage, extensions, and more. They also offer makeup and bridal services.
Gloss Salon and Studio is not just a salon; but a family. One of our most important things in our salon to keep our team camaraderie strong. Our salon takes pride in being a part of the local community and participating in various events, such as the annual Taste of Los Al and local school events and fundraisers. We are very much a community salon. Not only do some of our staff, including the owner have children our local schools, our clients do as well. Which makes supporting our local schools so enjoyable to us! We also love and support our local small businesses! The salon has a friendly and talented team of hairstylists and staff who go above and beyond to create an amazing experience for each guest.
Overall, Gloss Salon and Studio is a perfect destination for those who are looking for a luxurious hair experience with top-quality customer service, the latest trends, and innovative hair extension methods.
Make sure to follow us on Instagram and Facebook to see all our new creations and transformations!